| | |
| --- | --- |
| Meat Department | Gluten Free & Organic Products    |
| Fresh Seafood | Italian Gourmet Deli |
| Bakery Department                    | Fresh Produce |
| Fresh Herbs | Case pricing |
| Catering | Unfriendly's Ice Cream Shop |
| Grill | ATM |
| Free Delivery | Ice |
| Frozen Bait | online ordering |
Meat Department – Our meat department features a full line of Sterling Silver beef and D'Artagnan all natural  poultry. Applegate Farms organic and all natural products are available! We are famous for our cut to order aged Porterhouse steaks. Italian sausage, pork tenderloin, loin lamb chops and D'Artagnan all natural products are just a few of the items we carry in our full service meat department. Check out are new gluten free and organic products!
Fresh Seafood – Fresh Seafood is delivered daily. We feature fresh salmon filet, Yellow-fin tuna, and swordfish steak. Scallops, clams, shrimp and other seafood are available. Live lobsters can be ordered 1 day in advance. Sorry, lobsters are not available on Sundays.
Italian Gourmet Deli – Our Italian gourmet deli and appetizing department features Boars Head brand products and fresh salads made daily. Sandwiches and wraps are made to order. Stop in and try our famous "Pioneer" hero or our homemade white meat chicken salad or jumbo shrimp salad. On the lighter side try some South Beach salad or mixed greens with Gorgonzola, cranberries and caramelized walnuts.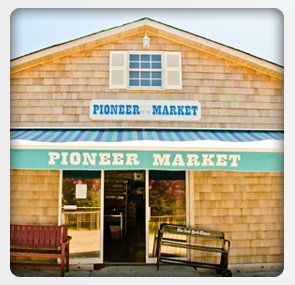 Bakery Department – Our bakery department features the largest selection of artisan breads on Fire Island, from bakeries such as Eli 's, Sullivan Street Bakery and Amy's Bakery. Crusty sourdough, 8 grain baguettes and Stecca Baguettes  are just a few of the specialty breads we handle. All of our bread, bagels and danish are delivered fresh seven days a week. For an after dinner treat we carry a full line of delicious Tates Cookies and fresh fruit pies from Blue Duck Bakery.
Fresh Produce -A full line of ORGANIC fruits and vegetables is now available. Our fresh produce is also delivered seven days a week. We handle only the finest fruits and vegetables on the market, from Holland peppers to local Long Island corn. Our produce department features everything from fresh figs to Shitake mushrooms. The produce we carry and the time that it is available is always reflective of the season. Check out our large selection of fresh herbs.

Case pricing is available on most items in our store. Stock up on paper products and beverages. Just give us your case order and we will deliver it right to your door.
Catering – Having a party? Let us cater it. We can cater any size party for any occasion. Shrimp cocktail platters, fresh fruit salad, specialty heroes, sandwich and wrap platters, Italian pasta salads and much more are available on our catering menu. Our catering menu is available here on the website or stop at the store and pick up a copy.
Ice cubes and frozen bait are available all season.                                                                                                                                                                                                 

CELEBRATING 40 PLUS YEARS!
Unfriendly's Ice Cream Shop – Another Fire Island landmark that is part of the Pioneer Market is Unfriendly's Ice Cream Shop. Ice cream cones, milkshakes and sundaes are a great way to cap off a hot day on the beach. Unfriendly's also serves hot coffee, bagels, rolls and danish any way you like them.

MADE TO ORDER ACAI BOWLS ARE NOW BEING SERVED AT UNFRIENDLY'S!



Grill – HOT OFF THE GRILL EGG SANDWICHES ARE NOW BEING SERVED AT UNFRIENDLY'S. HAMBURGERS, GRILLED CHEESE, QUESADILLAS, TUNA MELTS AND HOT DOGS ARE AVAILABLE FOR LUNCH! THE GRILL IS OPEN 7:30am-7:00pm seven days a week.
Groceries, dairy, frozen food, ice cream, newspapers, soda and beer are all available at the Pioneer Market. If there is something you would like us to carry please ask us, we are always open for suggestions.
We have updated our accounts receivable system. We ask that you provide us with the information we need to update your account. For your convenience you can open an in-house charge account. You can choose to have your account linked to your credit card and not have to worry about carrying cash to do your shopping. If you would prefer to pay your account in person, we ask that you settle your account weekly. We accept most major credit and debit cards. Need some extra cash? Feel free to use our ATM.
Serving Fire Island's west end, from Dunewood, Fair Harbor, Saltaire, to Kismet
MAILING ADDRESS PLEASE SEND PAYMENTS TO
Pioneer Market
29 Butler Street
West Islip, N.Y. 11795